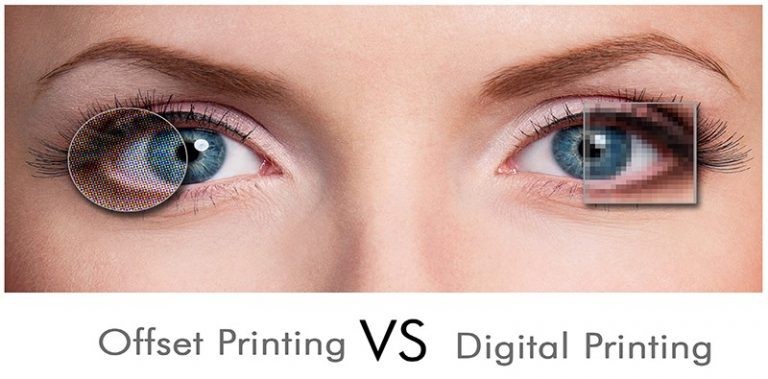 The two commonly used print techniques existing are digital printing and offset printing. Though their significances differ diametrically, each has its own place in the duplication world of paper. Each can be chosen to meet your needs at different times and for different projects.
Traditional Offset Printing:
Printing plates and wet inks are the major components required for offset printing. Offset lithography is the most common high volume commercial printing technology. In offset printing, the desired print image is burned onto a plate and is then transferred (or offset) from the plate to a rubber blanket, and then to the printing surface. The lithographic process is based on the repulsion of oil and water. The image to be printed gets ink from ink rollers, while the non-printing area attracts a film of water, keeping the non-printing areas ink-free.
Offset printing is the best choice when larger quantities are needed, and provides accurate color reproduction, and crisp, clean professional looking prints.
Digital Printing:
Basically, digital printing is done by either the ink-jet or the laser method. Images flow directly from a computer to the attached printer in the form of files called PDFs, or Portable Document Format, and other sources. No printing plate is needed as in the offset method, saving time and money. And, using PDFs really speeds up the duplication process all around. Even as few as one sheet can be easily made. Digital printing is highly relevant when the quantity is less. Another benefit of digital printing is its variable data capability. When each piece needs a unique code, name or address, digital is the only way to go. Offset printing cannot accommodate this need. Learn more about digital printing options and capabilities.
Advantages of Offset Printing:
Superior image quality with better color control
The unit print cost decreases as the quantity increases
Large quantities can be printed cost effectively
Works on a variety of printing surfaces including paper, wood, cloth, metal, leather, rough paper, plastic etc.
Special custom inks such as metallic and Pantone colors are available
Advantages of Digital printing:
Fast turnaround
Every print is the same
Print only the amount you need, when you need it
Counts are more accurate. Less waste and fewer variations, due to not having to balance ink and water during press run.
Cheaper low volume printing.
Variable data capability (names, addresses, codes or numbering can be done easily)
Still can't choose which is one is perfect for you?
Use this checklist to help decide:
Quantity: Offset printing has a front-end cost load. Hence smaller quantities will have higher unit cost. But as quantities increase, the unit cost goes down with offset printing.
Hence short runs can be much more cost effective with digital printing, while larger quantities are likely to have a lower unit cost with offset printing.
Quality: Offset printing is sometimes a higher quality option for heavy solid ink coverage or delicate gradients (shaded areas). Additionally, pieces produced with digital printing are more subject to 'cracking' when they are folded, particularly if they are printed on cover weight stocks. Modern creasing equipment minimizes this risk, but it is still something to be considered. At the same time, digital printing quality has advanced greatly, and some people prefer the vibrancy of digital color.
Printing medium: If you need the printing to be done on special paper, finish or unusual printing surface, or unique size. These options are increasing continually for digital, but offset printing still offers the most flexibility.
Color: Digital presses use four-color process printing. If you are looking for only black ink or one or two ink colors, offset printing may offer a more cost-effective solution. If you need four-color printing, digital may offer advantages in lower up-front costs.
Turnaround. When you have a rush project, nothing can beat the raw speed of digital printing. Since traditional offset printing is produced on a printing press using printing plates and wet ink. This type of printing takes a little longer to produce as there is more setup time and the final product must dry before finishing can take place At the same time, if you need a long print run of an item with no variable information, offset printing can be much faster once the press is setup because offset presses usually run faster. In addition, many modern presses employ dryers or special coatings to make print dry quickly for rapid finishing.
Proofing: Digital offers accurate proofs since you have an actual sample of the printed piece. Accurate color proofing for offset printing is also possible, but expensive.
Customization: Without question, digital printing offers the most affordable way to customize marketing materials, direct mail pieces, letters, etc. makes them the perfect choice for handing variable data.
Price: Although there is no hard rule in our operation, a run of 1,000 pieces is usually the "break even" point between offset and digital printing. Generally, if a run is under 1,000 pieces, digital printing is most cost effective, since the price per unit is lower than the setup costs associated with offset printing. It gets more cost effective with offset printing, when the quantity is more than 1,000.
Summary
You have to choose the right print technology based on your requirements.
Use the above checklist to help you decide and talk to your printer and choose the right solutions that caters to your needs.