Bring Efficiency and Stability to the Table
EDC offers a holistic approach with our high-end variable data printing, print on demand, transpromo and personalized printing solutions. From a simple communication letter to a complex transactional statement with multiple pages, we help customers to design their templates, process their raw data and convert them into a meaningful communication.
Our transactional Print Centre focuses on highly standardized processes, high level of security, latest transactional printing solutions, and output management systems. We are economical, secure, and capable of handling large-scale transactional print volumes in different outputs. When you partner with EDC, we handle your entire transactional print volume with great efficiency and stability throughout the process.
We Take Care of your Output Management
Equipped with our high-speed variable graphics and data printing machines, we provide Laser and Inkjet printing options for monochrome and full color printing. EDC introduces transparency and efficiency to all transactional printing—from the designing of materials, data profiling, segmentation & management, document designing & delivery.
Our automated fulfilment machines package the documents in the right envelopes, matching addresses with a high mail integrity check and feeding them into the postal sorting system. We don't just print transactional documents, we can also take care of your entire output management. Our top-of-the-line technical operation enables us to handle all types of documents even during seasonal peaks in production. We can save you resources, money and time by reducing production costs, optimizing workflow, and designing solutions that minimize postage fees.
Via management of data, printing, fulfilment and postage—all under one roof, a highly efficient service is guarantee at EDC.
Transactional Printing Services
TRANSACTIONAL STATEMENTS
With a highly experienced team and print software, we handle the transactional statements by designing templates, composing & merging multiple data for creating a complex multi-page document to a single page communication. We enable personalized target marketing of additional inserts and dynamic messaging that makes the statements a transpromo communication. EDC has the expertise to create the right product and tailor it according to your needs.
INVOICES
Our personalized business invoices are custom printed to include your company information. Custom invoices are a great starting point for any business to help focus on what's really important.
INVITATION
Create the right buzz around your corporate events and AGMs with personalized invitations decked out with metallic inks, foil stamping, embossing and more. Variable data printing allows us to personalize the documents in a highly efficient manner with variable information such as addresses and names, barcodes and marketing messages.
UTILITY BILLS
Are you looking to optimize your bill printing process? We bring extensive experience to the table managing the execution and integration of complex billing programs and can incorporate both print and eservices seamlessly to cater to your business objectives.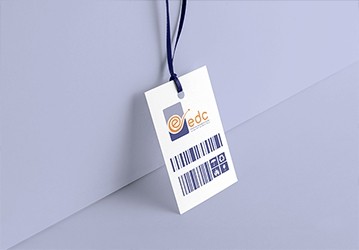 BARCODE PRINTING
EDC embeds all statements and marketing products with custom QR codes, 3D & 2D barcodes to make information sharing easy.
ENVELOPE PRINTING
Add a professional touch to your correspondence and make your professional mailings to create an impact with custom designed envelops in line with your marketing collateral. Printed envelopes promote brand recognition and create a positive first impression for your company.
CONTRACTS & REPORTS
Seal the deal with EDC's tailored business contracts. Business contracts are custom printed with your company logo, variable information and signatures.
INSURANCE DOCUMENTS
Be it customized newsletters, brochures, advertisements, promotions, leave behinds, insurance claims, direct responses, forms or documentation to support regulatory requirements, EDC offers customized printing and mailing services for all your insurance documents.