Customer Communication Management
Organizations globally spend millions to acquire customers through multiple social media and advertising channels. After successfully acquiring customers, the communications which are used to retain the customers such as welcome kits, statements, bills, customer correspondence, contracts, marketing communications are equally important.
But most of the organizations fall short in making these communications compliant and personalized to their customers. This is where EDC comes forward and offers consistent and relevant communications.
CCM - Infinite Channels & Meaningful Communications
CCM software is a centralized platform that gives an organization the ability to create, generate, and deliver many different types of personalized documents in different formats across all business sectors. Our CCM Platform enables business groups to compose, format and deliver relevant personalized customer communications at the right time, in the right manner through their preferred channels.
                
Delivering an exceptional customer experience (CX) through personalized omni-channel communications has never been more important to drive revenue, build customer loyalty, and sustain a competitive advantage.

Omni-Channel Experience
The CCM Platform enables organizations to engage with their customers consistently across all channels.
          
Most of the customers start their communication journey through one channel and complete it through another channel.

CCM Platform empowers the customer support staff to engage with their customers through these channels in a consistent and seamless manner.


Mitigate Compliance Risk
Frequently changing regulatory requirements and compliance risk are often a struggle to most organizations. Businesses treat these compliance changes as a hurdle, and lack in creating meaningful content for their customers. These circumstances create an adversarial relationship between business users and their peers in compliance.

These challenges are overruled by a centralized CCM Solution that enables a collaborative communication development process where compliance, legal and other business users can create and share communication drafts—eliminating internal conflicts and enhancing output. All communications are thoroughly tracked, managed, and approved easily by compliance personnel and content blocks are created to safeguard regulatory language wherever required.


High Visibility & Empowering Business Users
CCM platform empowers business users to create their own communications without relying on Internal IT to make the changes. Business personnel can control the design, editing and processing of the template for approvals to cross-functional departments within the CCM platform. This provides more agility and speed to deliver the communications to the business users. Via CCM platform, they have high visibility on various touchpoints and channels to monitor and execute real time updates for the communications.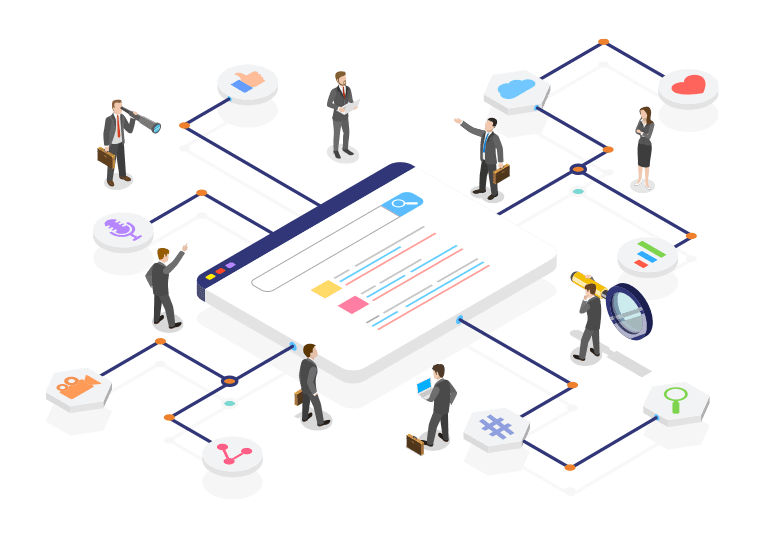 Enhance Time-To-Market & Amplify Engagement
Many organizations across multiple business sectors have critical legacy systems which make it difficult to create desired communication output. Our CCM platform has the capability to integrate with legacy systems, extract data and help internal business users to design and control the communications in a centralized CCM platform. Organizations are able to achieve their digital transformation strategy without impacting their core legacy systems.
Improve Customer Experience
Centralized CCM platform enables real time, cross channel, interactive communications that results in higher customer satisfaction rate. CCM solutions enables you to create highly personalized communications with dynamic visualization capabilities from the existing templates and data systems. These engaging contents can be sent to the end through any preferred channel of their choice. The CCM platform creates a consistent and convenient communication which in turns provides a great customer experience for the customer.