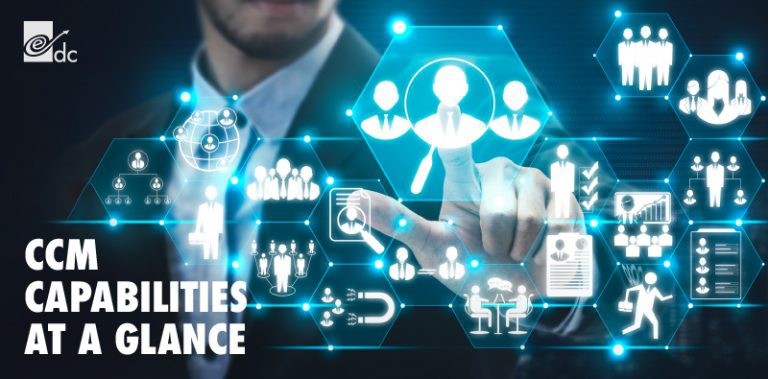 CCM Capabilities at a Glance
As financial services organizations seeks to improve their competitive position, improving the customer experience through a centralized cross- channel communications strategy has become a key area of focus. From paperless onboarding to interactive account statements and mobile push notifications, modern CCM solutions enable financial organizations to meet the ever-changing needs of their customers.
"Over the past few years, digital banking teams have improved transactional features such as P2P money transfers and mobile bill pay. But few banks provide useful service tools like letting customers notify the bank when traveling abroad—or help them research or apply for financial products directly in the mobile app." global mobile banking functionality benchmark, Forrester research, july 2016.
Some key capabilities include:
PAPERLESS ONBOARDING: Modern CCM platforms have the ability to make onboarding for new products and services easy by providing application forms that are pre- populated with customer data. Then, customers are able to quickly sign contracts using any device with integrated signature capabilities. Benefits include: Increased efficiency, reduced application abandonment rate, reduced in-bound call volumes, faster onboarding and reduced print and mailing costs.
DYNAMIC, INTERACTIVE STATEMENTS: By integrating with existing core systems, leading CCM technologies enable organizations to transform their existing account statements, reports, and bills into personalized responsive communications that include interactive tables, charts, and special promotions. Additionally, customers are able to make bill payments from the convenience of their preferred devices, improving cash flow. Benefits include: Improved customer engagement, reduced in-bound call volumes, improved customer experience and reduced print and mailing costs.
COMPLEX DOCUMENT ASSEMBLY: From investment portfolio packages to proxy statements and contracts, many organizations struggle with complex document assembly and delivery. Leading CCM solutions enable you to create, assemble, manage, and track complex documents from one centralized communications hub and deliver them across all channels. They allow full control over the complex relationships between different types of content, document order. Benefits include: Increased efficiency, improved customer experience, reduced in-bound call volumes and quick and easy onboarding.
So With new technologies becoming mainstream, consumers are living in an always-on and always- connected world. They want to be treated as individuals with personalized service that is delivered at the right time and via the right channel. New communication technologies are bringing with them new opportunities and challenges for retail banks as increasing numbers.
Of consumers opt to interact via online and mobile channels. However, customers still enjoy traditional methods of engaging with their bank, so it is essential to take a centralized approach and invest properly across all channels to ensure the same seamless level of service regardless of touch point.